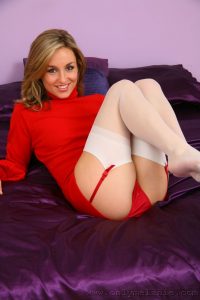 I love the fact that more and more models are starting to agree for an interview… and i'm more than happy to finally have Melanie's interview here! It wasn't easy, as Melanie is a really busy girl, but i guess that when Carla answered my questions, she saw it (they work for the same company) and agreed… well, good! So here it is guys…enjoy the beauty of Melanie, from Only Melanie!
What size shoe do you wear?
I am only 5'3″ so have small feet at a size 3. Though in some shoes I can be either a 2 or 4!
Do you have a favorite kind of shoe, and if so what is it and why?
Most of the time you will find me in either sandals or trainers just lazing around, but if I am out for a night you can't beat a sexy pair of high heels!

When you are at home, do you wear slippers? What kind?
Yes I have a pair of pink fluffy slippers – they are soooo comfy if I have been modelling and on my feet all day.
Do you like to wear pantyhose or stockings, and if so what style/brand? Any favourite color?
I adore wearing stockings, and have worn them since I was about 17. My favourite type is pure silk stockings, but they cost a fortune so I only wear these on special occassions. For everyday wear I usually prefer Falke or Levante, or sometime Jonathan Aston as they are cheap. As for tights I sometimes wear them in the winter when its cold, and I do find some of the Wolford Opaques are nice and snug and warm and do feel good
Do you also like to wear socks? And if so, what color do you prefer?
I wear trainer socks with my trainers. And only colours to match the trainers of course – us models do have standards to keep you know so this usually means white or pale pink
Are you familiar with foot and/or shoe fetishism, and if so, how were you introduced to it? Ever dated a foot fetishist? What was it like for you?
I am familiar with foot fetishism, and I am aware of shoe fetishes through the modelling work. I do get asked a lot on shoots to wear high heels, or those lapdancing type "porn" shoes as I like to call them . I have never dated a proper foot worshiper, although I did have one ex who loved to play and suck on my toes.

Do you have a preferred method of having your feet pampered? (e.g. massage, pedicure, oral worship)
I love having my feet massaged, although the bottom of my feet are very ticklish !! As said above one ex liked to suck my toes, and it was nice if he did it without tickling my feet
Are you familar with the term "shoeplay", and if so do engage in shoeplay when you're out in public?
I think subconciously many women use shoeplay to attract the opposite sex. I know I have done this on occassions to play with shoes, or dangle on my feet, its a good way to get someones attention, especially as I like to think I have good legs!
In keeping with the theme of our website, have you ever teased a man under the table with your feet? We'd be particularly interested in hearing about any time you've done that when other people are also sitting at the table.
I did this once on a train, where my b/f was sitting opposite me, and I teased him under the table for ages, there were lots of people around but no-one noticed, or if they did they didnt say anything or let on
Is there any scene that you remember from a movie or a tv show where there is a woman that uses her feet to seduce a man?
I can't recall anything like that I'm afraid.
What other foot related sexual activities have you tried, if any (e.g. foot worship, pedal pumping, footjobs) and what did you think about that?
OK we've all tried a footjob and yes it was fun. But I am lost as to what pedal pumping is??
Any advice for men who want to reveal their foot fetish to their lover?
Go for it, anything different sexually can often revive or enhance a relationship.
So what did you think about it guys? I think she's REALLY sexy and knows what to do with men… and be sure to read her website's review!